Anizham - Day Five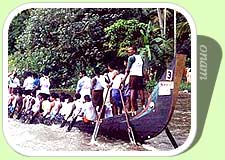 Anizham is the fifth day of Onam celebrations. High point of the day is the grand Snake Boat Race event called Vallamkali, which takes place on the fifth day of the Onam. The hugely popular competition happens on the banks of the river Pamba at Aranmulla. A multitude of domestic and international tourists come to witness the colourful spectacle of the race.
A large number of long snake like boats called chundan vallams participate in Vallamkali. Each picturesquely decorated boat is oared by hundreds of oarsmen dressed in the traditional dhoti and turban. Boats are oared on the rhythm of vanchipattu or boat songs. Vallamkali is essentially a team event as a single mistake by a oarsman can lead to overturning of the boat.
On the home front, more flowers are added to the Pookalam laid in the front courtyard of the house. Women become extremely busy making preparations for Thiru Onam and a general atmosphere of excitement prevail at this time in Kerala.