Thriketa - Day Six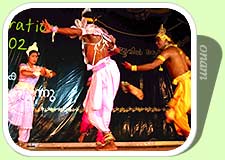 Triketta or Thriketa is the sixth day of the carnival of Onam. A feeling of joy and jubilation can be felt amongst the people of Kerala at this time. Cultural programmes and social gatherings are organised by various cultural societies all over the state. People of all religions caste and creed participate in these events as the festival of Onam has come to be seen as a secular festival. Government of India too celebrates Onam as the National Festival of Kerala.
There are no set rituals marked for the day of Triketta. It marks the time for home coming for people staying away from their families for various reasons; Onam is the time for family get together and nobody likes to be away from family and dear ones. Joys of festivities doubles in the company of family members and close friends. On this happy note, Pookalam gets a more beautiful design and fresh flowers.
Lady's Finger Kichadi
ingredients:


Lady's finger pieces 3 1/2cup
Thick Curd from 1/2 litre milk 2cups
Green chillies 2
Dry Red chillies 3
Mustard 1dsp
Grated coconut 1/2cup
Curry leaves 2 springs
Oil 2 tsp
Salt to taste

Method:
Slice the ladies finger in small round pieces.
Fry lady's finger in oil till crisp. Ground coarsely grated coconut, green chillies and mustard. Season mustard, red chilli and curry leaves in 2 tsp oil. Lower the flame add curd and the ground ingredients. Keep stirring. Add fried ladies finger and salt. Remove from fire when it boils.